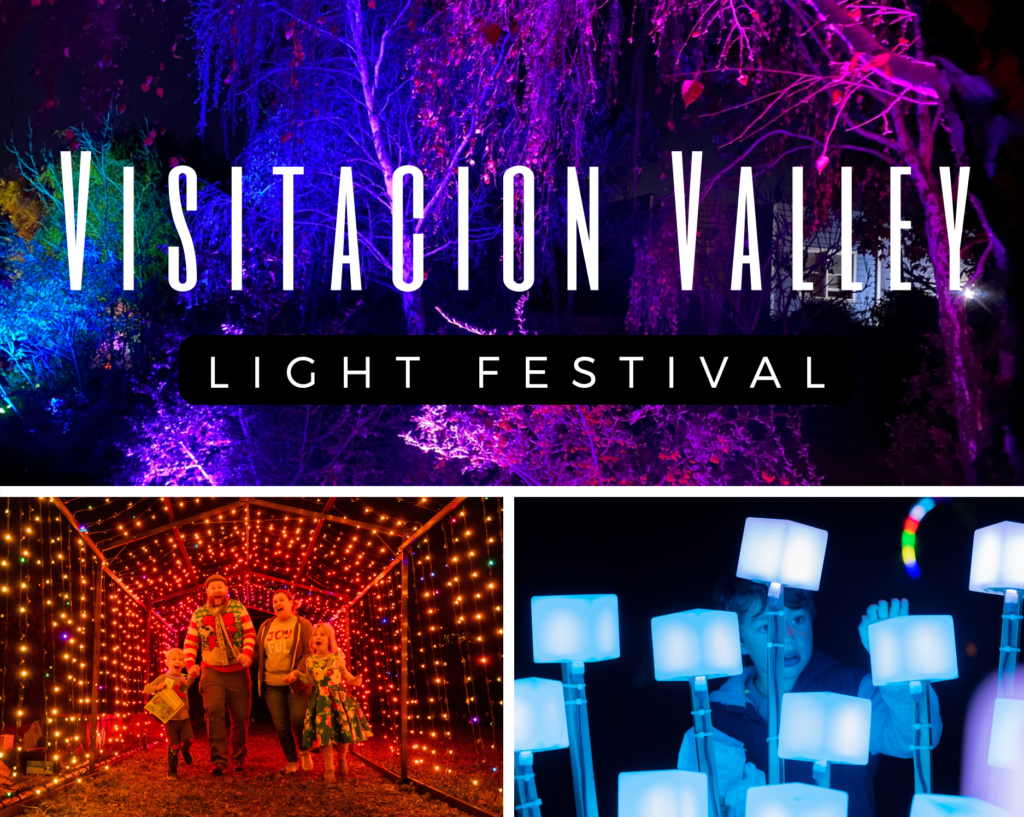 WHEN: Friday, November 10 & Saturday, November 11 5PM-8PM
WHERE: Visitacion Valley Greenway, Leland Ave & Peabody St. to Campbell Ave & Rutland St.
The Visitacion Valley Light Festival is a community art event where families can explore and interact with light art by local Bay Area artists. Leland Corridor businesses will stay open late to provide warm bites and beverages. Family-friendly activities include photo booths, Visitacion Valley history movie showings, Christmas Carol Karaoke, and a live jazz band.
Visitacion Valley, a San Francisco neighborhood home to working-class families from a variety of ethnic and cultural backgrounds, was historically neglected by government officials. The Visitacion Valley Light Festival is part of a larger effort to activate the community and promote local business on the Leland Avenue commercial corridor.
The Visitacion Valley Greenway is a series of six adjacent public parks allowing visitors to meander through the heart of Vis Valley amidst greenery and public art. VVLF will illuminate the four southern parks in a free, family-friendly public event:
Hans Schiller Plaza: Gateway to the Greenway from Leland Avenue, next to popular café Mission Blue and other local businesses. Lawns for picnics and a performance stage with seating.
Community Garden: greenhouses and gardening plots for local residents and youth programs, alongside a lushly canopied walking path
Herb Garden: Patio areas, terraced herb garden, beautiful lookout with views of San Bruno Mountain
Children's Play Garden: Popular local playground, lawn area for dog walks and picnics, forested area